The method of collecting and analyzing information about customers to better understand their interests and preferences is known as customer intelligence.  Businesses utilize this information to improve their products and services, as well as to customize their marketing and sales activities to fulfill the requirements of their target audience.
Businesses can collect customer insights in a variety of ways:
Market research: surveys, focus groups, and other methods of directly gathering data from customers
Analysis of customer data collected through interactions with the business: online purchases, customer service inquiries, and other interactions.
Businesses can enhance consumer happiness and trust by understanding their demands, desires, and interests. By analyzing customer data, businesses can detect trends that will help them in discovering new products or services that could be in demand. This can help them keep ahead of the competition and consistently improve their products and services.
What are Customer Intelligence Platforms?
Customer intelligence platforms are software tools that help businesses no matter their size in acquiring, analyzing, and executing actions based on customer data. Market research tools, data analytics tools, and customer relationship management (CRM) tools are examples of features that can be found on these platforms.
These platforms can collect information from a range of sources, including surveys, focus groups, and web engagements. These platforms' goal is to help businesses better understand their customers and make data-driven decisions to improve their products and services, marketing and sales campaigns, and customer support.
The Benefits of Using Customer Intelligence Platforms
Customer intelligence platforms can bring several benefits to businesses, including:
Improved targeting of marketing and sales efforts
Increased customer satisfaction and loyalty
Identifying new opportunities for growth and innovation
Enhanced customer relationship management
Improved decision-making
What are the 5 best customer intelligence platforms?
Rival IQ offers in-depth thorough analysis for creating the best possible social media experience helping you with shaping an effective social media strategy. Compare your performance on social media with the results of your competitors, create always-on benchmarks, handle Twitter mentions, find the trending topics that will drive engagement numbers in height, and more.
This one comes with Social Posts Analysis that enables you to spot the best and worst performing posts and sort them by various parameters. Also, you can analyze hashtags, and measure activities and engagement, determine the best posting time by examining different metrics and comparing each post's performance.
Social Media Audits will let you access all the essential web data which will help you to understand what type of posts works the best for you, measure mentions, tags, and much more.
With Social Reporting, you will be able to access detailed reports using customized dashboards for in-depth insights using various charts, tables, and graphs. All insights can be exported in various formats (CSV, PNG, PDF…). This one offers you scheduling reports exports that can be delivered to you via email.
Signal helps you to understand better your visitors' preferences collecting and showcasing your visitors' engagement with your brand. It allows you to analyze further collected cross-channel information in real-time from any possible device – websites, mobile devices, emails, advertisements, CRM, and call centers, which enables you to create better and more efficient marketing that will boost engagement and conversion numbers.
Signal's tools allow you to develop the best strategy for reaching the target audience at the appropriate time and showing only relevant offers. This one works with Facebook, Instagram, Snapchat, Pinterest, Twitter, and other popular social media platforms.
Asseco's powerful analytics tools will enable you to collect and observe data on the customers' activities and preferences from social media, websites, mobile applications, and other places using algorithms, machine learning, and AI. It will determine the customer's profile and target the most appropriate individuals in real time based on data analysis, model building, and testing.
This will allow you to better assess and comprehend your customers' behavior, offering them targeted offers that will lead to new clients, increasing product sales, defining the best offer for customers, and more. It will not only raise sales but also improve clients' impressions of your brand.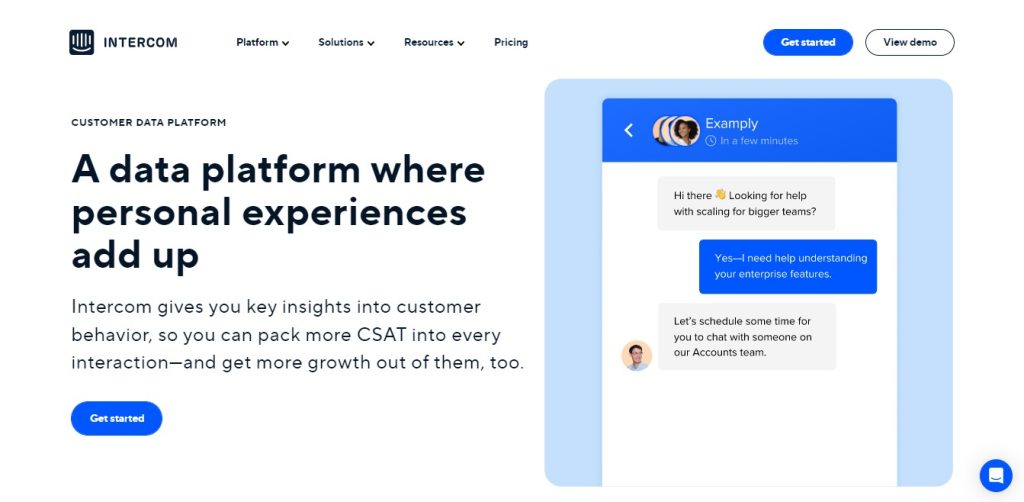 Intercom is a customer intelligence data platform that gives you essential insights into customer behavior, interaction, business type, location, and spending, which will help you make the most of every customer engagement. This platform is based on analyzing behavioral data which helps you to target customers better based on the actions they take on your website, social media profile, or app.
Create and analyze customer profiles, interactions, and subjects of interest, as well as data from live chats, emails, CRM, apps, and other sources. This will help you in turning visitors into customers and in developing multi-channel campaigns that will boost engagement and conversions.
Finally, Audiense is the final powerful customer intelligence platform on our list. It offers you every essential tool you need to understand your customers' preferences and get better marketing results.
Utilizing Digital PR and Outreach, SEO & Keyword research, Influencer outreach, Audience research, Advertising targeting and Content ideation with Audiense will help you to understand and collect your visitors' interests, choices, and affinities which you can utilize to create an effective strategy to convert visitors to clients creating an ideal audience.
Segment audience by interests, use data to understand affinities, and demographics, and identify and understand any audience using Auidense Insights. Gather customers' reviews, analyze what they like, and who they follow to determine your target audience, and gain psychographic, demographic, and personality insights, as well as the content they like.
Conclusion
Ultimately, customer intelligence platforms provide numerous advantages for businesses that want to enhance customer relationships and better understand their target market. Analyzing customer data, these platforms give valuable insights enabling businesses to make the best decisions and adjust their strategies to better fit the preferences of their customers. Businesses can gain a competitive advantage and increase customer satisfaction and loyalty with these platforms.